A Mitchell-equipped 2 Group squadron, this became part of 2TAF in the summer of 1943, flying from Dunsfold from August onwards, and later relocating to the continent. Here are some links to them…
http://www.aircrew-saltire.org/lib160.htm
http://www.bbc.co.uk/history/ww2peopleswar/stories/52/a2299052.shtml
http://www.iwm.org.uk/collections/search?query=%22180+Squadron%22&submit=&items_per_page=50
http://www.historyofwar.org/air/units/RAF/180_wwII.html
http://www.theygavetheirtoday.com/180-squadron.html
http://www.rafweb.org/Sqn176-180.htm
http://www.raf.mod.uk/history/180squadron.cfm
Here's an appeal for information about the crews of several crashed 180 Squadron Mitchells…
http://forum.keypublishing.com/showthread.php?56754-180-Squadron-RAF-Help-needed
In connection with his wife Edna's family, and thanks to a kind soul at the West Yorkshire Archive Service, Bradford, we're now also looking for any of the following names:
Rose Elliott
Rosie Elliott
Jack Elliott
Ronald Elliott
Phyllis Elliott
We think that Jack and Ronald are Edna's brothers, and Edna herself probably has some kind of military service.
If Albert Street, Low Moor rings any bells for you, please get in touch…!
He's on the Wartime Memories Project, here (between a third and half of the way down)…
http://www.wartimememoriesproject.com/ww2/thosewhoserved/v-ww2.php?pagenum=2
We've made contact with a relative of his, and we'll see if sharing information will provide further insight into what happened on 25 Oct 1943 near Brest…
We're hoping that he has family out there that would like to get in touch. Here's a possible tree for him, and some conditional details…
His father was Klaas van Dijken and his mother was Frederika Bosman. He was born 29 Jun 1917 in Amsterdam, and enlisted on 4 Oct 1936. He was a commercial traveller who lived at 28 Decoy Avenue, Finchley Road, Golders Green, London, NW11. On 29 Dec 1941 he married Beatrice Helen Burriss (Sullivan) in the Borough of Hampstead in London. On 28 Apr 1951 he arrived at Fremantle, Western Australia. He died 22 Feb 2003 in Carrum Downs, Victoria, Australia. Beatrice was born 1 Jan 1918 and died 21 May 1977 in Fitzroy, Victoria, Australia.
We'd like to correspond with relatives of this man. Here's a tiny possible family tree and some conditional details…
He was born on 30 Dec 1923 in Kudus (=Koedoes), Central Java, Indonesia (formerly the Dutch East Indies). He was a student who enlisted on 11 Dec 1941, and lived at the house of Mr. Walter, 22 Halesleigh Road, Bridgwater, Somerset. In about August 1945, he married Aileen Veronica Desborough King in the Bridgwater area, and died in Rijnsburg. Aileen was born on 23 Jul 1924 in Torquay, Devon, and died in Katwijk.
We'd like to contact relatives of his. Here's a possible family tree for him (all details are conditional)…
He was born on 1 Aug 1922 in Den Helder, enlisted on about 12 Oct 1939, on 28 Aug 1940 left Liverpool on the Volendam and on 20 Sep 1940 changed to the Nova Scotia, bound for Halifax, Nova Scotia. He lived at 9 Albert Street, Low Moor, Bradford, Yorkshire, and in about Aug 1943 married Edna Elliott in or near Bradford. Edna was born on 10 Nov 1922 and died in about 1991 in Rotterdam. Her parents were Leonard Elliott and Edith Haynes, both from West Yorkshire.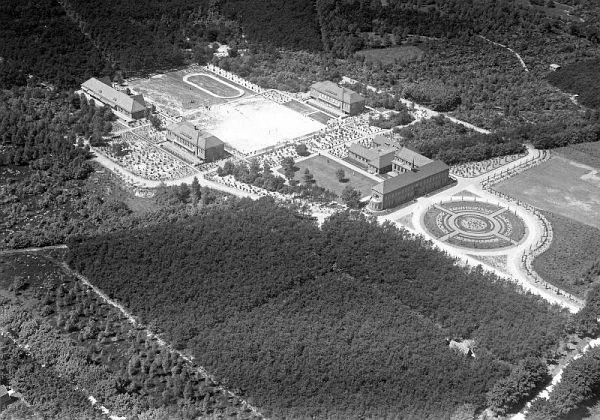 Here, thanks to the diligence of our correspondent Rob Essers, is a photographic essay on the history of the grounds of this Nijmegen boarding school, which was used as a field hospital and temporary burial ground during the Second World War…
http://www.gaypnt.demon.nl/jonkerbosch/vogelvlucht.html
A number of servicemen are reported to have been interred here…
http://www.paradata.org.uk/people/kenneth-roberts
http://www.paradata.org.uk/people/donald-bainbridge
http://www.paradata.org.uk/people/frederick-j-whiting
before their reburial at the nearby Jonkerbos War Cemetery, which is maintained by the CWGC…
http://www.cwgc.org/find-a-cemetery/cemetery/2062100/JONKERBOS%20WAR%20CEMETERY
If you have details about these or about other burials in the school grounds, then please contact us.
Thanks!